Welcome to Kanata Nordic Ski Club
Racing Rabbits in the spotlight
In March 2013 Councillor Mathieu Fleury joined the Racing Rabbits for a training session at the Y camp. Councillor Fleury is doing a project called '52 Sports in 52 Weeks' and chose Kanata Nordic to represent xc skiing in the National Capital region. Check out the video of his visit. We're the first of 52!
Kanata Nordic's Annual General Meeting and Banquet
Coming up on Sunday April 21 at the Royal Canadian Legion Hall in Bells Corners. Deadline for ticket purchase is April 18, 9pm



Spring skiing!
Photo by Ken Knight
---
Follow us on Twitter!
Social media + skinny skiing = Kanata Nordic on Twitter.
@KanataNordic. Nuf said.
Follow us and retweet often.
---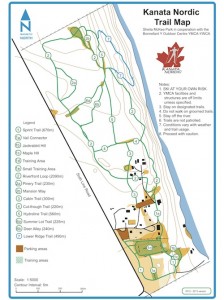 New Trail Map for 2012-13 Season
Click on the image on the left for a larger view of our new trail map, updated as of October 2012.
Many thanks to Stefan Bergstrom of the Ottawa Orienteering Club for his help in creating this great new map.
The maps are posted trailside at major intersections and entry points.
---
Club Brochure
Click on the brochure below to download a PDF version.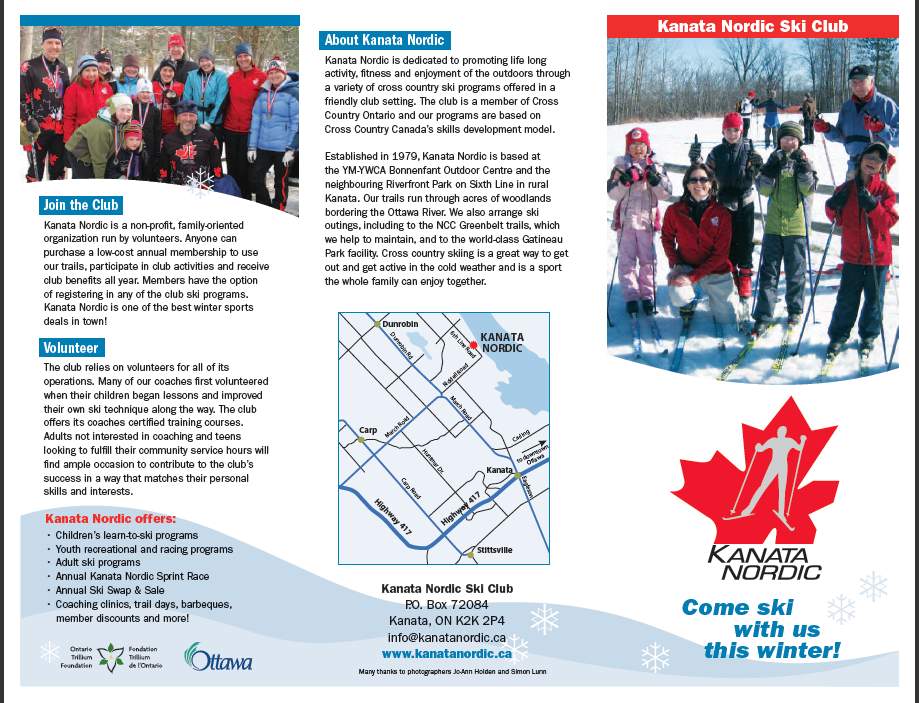 ---
Kanata Nordic receives funding and support from
The Ontario Trillium Foundation and the City of Ottawa.